Key events
Porto 0-1 Club Brugge
Bayer Leverkusen 0-0 Atlético Madrid
Marseille 0-1 Eintracht Frankfurt
Half-time: Bayern Munich 0-0 Barcelona
Barca had by far the better of a belting half. Gavi and Pedri are just absolute money, and were Lewandowski on it, their team might be out of sight already.
GOAL! Marseille 0-1 Eintracht Frankfurt (Lindstrom 1)
The atmosphere at the Velodrome ratchets up another level.
Matip pokes into Diaz, who's wandered central, and he finds Alexander-Arnold, free down the right. He cuts inside, working a shooting angle, leathers an effort … but it's straight at Pasveer, who saves then saves the follow-up. "He hit that too well," insights Steve McManaman in co-comms.
Gavi and Pedri are bossing Bayern, the latter picking a terrific ball into Lewandowski from out wide, only for his mate's first touch to let him down.
"Thiago is such a talent he could nutmeg you in a phone box," reckons Gary Byrne. "(Younger readers, ask your parents)."
Unlike Said Benrahma, who can, we're told, nutmeg a mermaid.
"Bayern faced my club Stuttgart this weekend," advises Kári Tulinius, "and it was a bit odd. Their play felt precariously unbalanced. There was a moment, when they led 1-0, and Kimmich made a preposterous dive which led to a Stuttgart goal. It was subsequently overruled by VAR on weird grounds, and the Bayern players didn't look surprised at all. The team just isn't used to things not going their way, so they take unnecessary risks. Most of the time it works, but not always. The game ended in a draw, both Stuttgart goals coming from Bayern mistakes."
Yes, I guess they can win the Bundesliga without being fully-focused, like Man United in 96-97 or 00-01, but will eventually get found out in Europe. I also think Nagelsmann is struggling to balance his side.
Saaaaved! Van Dijk dives to earn himself a free header when Alexander-Arnold picks him out with an outswinging corner, but once he got there he ought to have done better than direct an effort down … but too close to Pasveer, who makes a decent stop.
Watching Barca in Munich, I'm wondering, as I have been for the last few months, if we're about to see an uptick in Champions League standards. There are, I think, more good teams this season than at any point in the last few, and all of them have brilliant attackers but I'm not sure any are all that at the back.
"Glad to see Mo is just beginning to find his Mojo," emails Colum Fordham. "The goal should give him the confidence to rediscover his inner Mo (Jo?). Also curious to see how Tsimikas steps into Robertson's boots."
I think he's a good player, and if Tsimikas played on the right, he'd still have started tonight.
That goal wasn't coming, exactly, but Ajax have loads of attacking verve and Liverpool just aren't that hard to score against. Again, their defence was turned by a runner, and again, Van Dijk allowed his man to get away from him.
WHAT A GOAL! Liverpool 1-1 Ajax (Kudus 27)
It's been all Liverpool but Ajax pull them apart down the left, Blind finding Alvarez down the left and running off Alexander-Arnold. He pulls back for Kudus, pulling towards him off Van Dijk as Bergwijn does really well to get in between them … then Kudus lashes a glooooorious finish inside the near post and in off the bar! What a talent! What form! What a game we now have!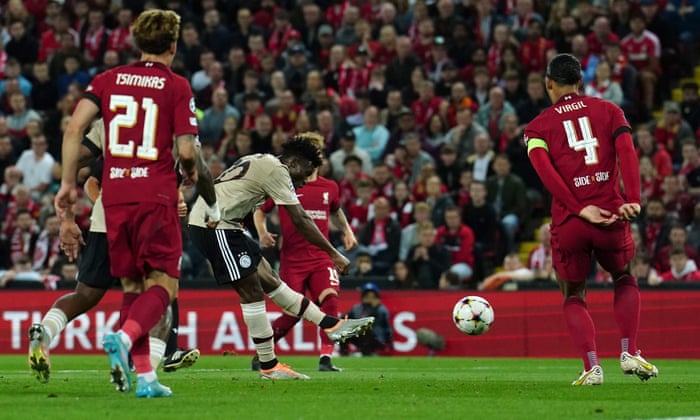 Another terrific clearance from Alisson finds Tsimikas, high and wide as you'd expect. His cross is a good one too, but at the near post, Salah can't force a shot on target.
My coverage dropped out, then returned for me to see Van Dijk knocking down a cross – following a corner I think – that Diaz drills wide with Pasveer rooted to his line. Then Thiago, who's conducting nicely here, sets Jota for a shot which lasers wide.
Gosh, Lewandowski has missed another chance! Bayern are struggling here, and have sent on Mazraoui for Pavard, who I think is injured.
GOAL! Liverpool 1-0 Ajax (Salah 17)
He needed that, they needed that! Diaz flicks an Alisson punt into the middle and suddenly Jota has a man over … and it's Salah! He slides him in and though the first touch is perhaps a little heavy, it also commits the keeper, allowing Salah to stretch into a finish that directs the ball inside the near post. That's a very smart finish.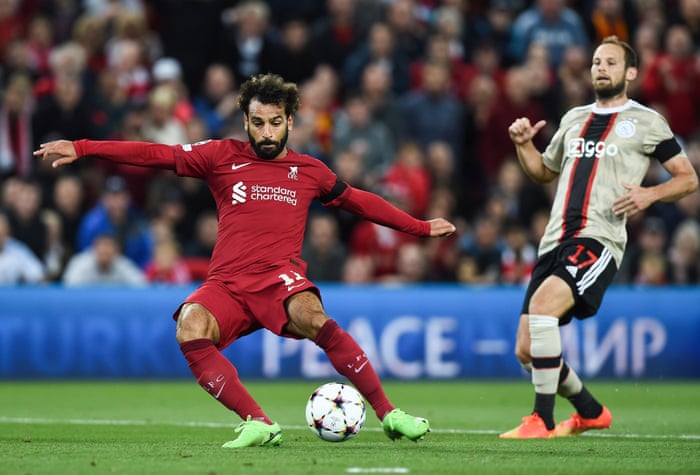 Eeesh, Gavi plays a fine pass into Lewandowski's stride and his first touch is a lush one, sitting the ball up for a stretch-volley … that he directs over the bar. I did not expect to see that.
GOAL! Porto 0-1 Club Brugge (Jutgla pen)
Wow! What a start Brugge have made to this competition.
I read this earlier:
And really, dearie me: a football novice sacking a Champions League-winning manager for showing insufficient deference to his footballing expertise. Er, OK mate.
Manuel Neuer, progenitor of football, passes straight to Lewandowski, but right when a goal looks likely, Upamecano does brilliantly to sprint back and buffet him away from goal at cost of a corner – which comes to nowt.
"Agreed on Bassey," emails Ronan Heffernan, '"Shirley he is destined for big things."
Yup, he's the man with the Midas touch. On which point, one of my mates had a terrifying nan who gave not a rabbit one about voicing her avant-garde opinions, and about whom we used to sing Old Vera, she's the gran, the gran with the rinsing touch. Now that you ask.
Meanwhile, Barca are into it in Munich, fashioning a chance for Pedri, who takes a lovely first touch across his man only to drive a shot into Neuer's legs from 10 yards. That should've been 0-1.
Lovely give-and-go from Salah and Alexander-Arnold, who turns in the box to slide into his mate's path. But again, Ajax crowd Liverpool out.
In Munich, the home side have had the better of the opening exchanges. I'm excited to see, though, once the game settles, if Gavi and Pedri are good enough to dominate against Kimmich and Musiala – I think they are, but Bayern have the edge at full-back and might deploy that to win the midfield numbers game.
Liverpool have started well, Thiago finding Elliott loitering down the right. He crosses to the back post, where Blind does enough, and Tsimikas lamps over the top. On which point, Elliott looks like a very serious player – if not the kind who can allow the kind of full-back play we've seen from Alexander-Arnold and Robertson over the last few seasons.
Salah immediately raids down the right, but his low cross is humped away by Bassey. I've seen a fair bit of him over the last couple of seasons and he looks a really smart replacement for Lisandro Martínez, quick, strong and intelligent.
"A silence impeccably observed by many but not by everyone," says Darren Fletcher on BT. For what it's worth, I didn't hear much noise, but there are, without doubt, people in Liverpool who feel the city has been let down by official bodies over the decades,
We're away in Munich, while at Anfield, there's a minute's silence.
Goodness me, the state of Bayern's bench. I wonder what the plan is for Gravenberch, who's on the bench – he didn't sign for that – and also whether Goretzka is no longer considered a big-game starter. I hope not, because he's a brilliant player and a top man, but perhaps the injuries have taken their toll.
Here come our teams…
"Daniel, you mention Sporting scoring a second time against Spurs as if this is a bad thing?" asks Ian Copestake. "The question intonation signalled by my incorrect use of the question mark for a non-question is entirely deliberate, in case any former students/pedants are itching to 'av a go."
Copestake's upspeak, I call it.
Focusing on Bayern v Barca for a moment, the team Xavi's sent out tonight tells us plenty about who his first choices are. I'm a little surprised Marcos Alonso plays ahead of Jordi Alba, but otherwise, Gavi, Pedri and Busquets are reunited in midfield – against Plzen, De Jong and Kessie played – and in attack, Raphinha replaces Fati. Last week, the main man was Ousmane Dembele, and I can't wait to see how he does tonight, against better opposition, but also this season, now he's focused, injury-free and alongside Lewandowski. the first time I saw him play I thought I'd seen a superstar, and I hope he gets as good as his talent says he should.
"Nails athletes," says Dan from Walthamstow. "You've hit the proverbial on the head. The high press, the full-back-cum-wingers; the Bobby F smoking a cigar; they all work just dandy when there are three high-energy midfielders (Barney had a great description of them I think as a 'highly committed removal firm' ) but right now the core of the team just look knackered and drained, like that woman from Bristol who couldn't believe there was another flipping general election. Looking forward to an early Ajax goal followed by an hour or so of fruitless attacks!"
I also think that Klopp inspired a bunch of very good players to become world beaters. It was amazing to see, but because they don't quite have the technical ability to fall back on, it might expire sooner than teams tend to because of that. Truth is, the best football this side have played, I think, came three seasons ago.
Rio Ferdinand reckons Alexander-Arnold is good enough to see off the best left-wingers around, but I'm not so sure. He doesn't have recovery pace nor does he smell danger, which isn't to say he can't work, but I think he needs the team to be in proper working order for that.
Klopp tells BT that he's hoping for a big performance but has to acknowledge the quality of Ajax. He's hoping for a performance from Thiago and notes the choice he had between three fine centre-forward – I guess Jota has most credit, having been injured, and does, reckons Klopp, combine the qualities of the other two. That sounds a little generous to me, but he's a very good player, and picking him was not, we're told a difficult decision. Of Ajax, he says they're coming from the opposite pole – "they are flying, we are not" – and off he trots.
Full-time: Sporting 2-0 Spurs
Oh man, Sporting have scored again! They lead Spurs 2-0, playing injury-time.
Elsewhere…
Sporting have taken the lead against Spurs, with just a few minutes left. I'm sure Antonio Conte will see the funny side, but.
Oh, and Inter now lead 2-0 in Plzen.
And that, I think, is really the crux of Klopp's problematic. He could get away with full-back playmakers when he had three nails athletes in midfield, but now Wijnaldum has left and Henderson is old, that's no longer possible, and though Thiago offers subtlety that was missing before him – when he's fit – having him also means they have to play differently – except they don't.
I do wonder, though, whether Fabinho and "Trent" would've survived had Klopp had serious alternatives. Fabinho was just so lax last week, while Alexander-Arnold will, for as long as he plays right-back, be a ludicrous strength against almost everyone, but a serious weaknesses against against anyone good enough to examine his defensive ability, or attack the space in behind him.
Jürgen Klopp makes four changes to the side that collapsed so peculiarly at Napoli: Andy Robertson is injured, so Kostas Tsimikas comes in, while Joe Gomez, James Milner and Roberto Firmino are dropped, replaced by Joel Matip, Thiago and Diogo Jota.
Email! "If Liverpool's Five Days of Truth are anything like the 'truth sessions' that were a well-meaning but squirm-inducing part of undergraduate housemates' life, then Klopp can look forward to his players displaying all the insight and wisdom that a roomful of callow 18-year-olds can muster, i.e. very little and none, respectively."
Oi! I was an extremely mature 18-year-old, I'll have you know.
*Er, I wasn't.
Group A
Liverpool: Alisson, Alexander-Arnold, Matip, Van Dijk, Tsimikas; Fabinho, Thiago, Elliott; Salah, Jota, Diaz. Subs: Adrian, Davies, Gomez, Milner, Firmino, Nunez, Carvalho, Arthur, Bajcetic, Phillips.
Ajax: Pasveer; Rensch, Timber, Bassey, Blind; Berghuis, Álvarez, Taylor; Tadic, Kudus, Bergwijn. Subs: Stekelenburg, Gorter, Klaassen, Brobbey, Ocampos, Kaplan, Lucca, Sanchez, Grillitsch, Baas, Regeer, Magallan.
Group B
Bayer Leverkusen: Hradecky; Kossounou, Tah, Tapsoba, Hincapié; Aranguiz, Andrich; Hlozek, Demirbay, Hudson-Odoi; Schick. Subs: Bakker, Sampaio Filho, Azmoun, Amiri, Aranguiz, Fosu-Mensah, Frimpong, Lomb, Neutgens.
Atlético Madrid: Grbic; Molina, Felipe, Witsel, Hermoso, Reinildo; Koke, Llorente, Saúl; Joao Félix, Morata. Subs: Kondogbia, De Paul, Griezmann, Santos, Correa, Carrasco, Diez, Gomis, Moreno A, Moreno M, Mestre.
**
Porto: Diogo Costa, João Mário, Pepe, David Carmo, Zaidu, Otávio, Uribe, Eustáquio, Pepê, Galeno, Evanilson. Subs: Cardoso, Marcano, Foneseca, Ramos, Grujic, Conceicao, loader, Franco, Wendell, Costa, Lopez, Borges.
Club Brugge: Mignolet; Odoi, Mechele, Sylla, Meijer; Nielsen, Vanaken, Onyedika; Skov Olsen, Jutgla, Sowah. Subs: Sobol, Balanta, Larin, Boyata, Nusa, Yaremchuk, Audoor, Lammens, Sandra.
Group C
Bayern Munich: Neuer, Upamecano, Pavard, L. Hernández, Davies; Kimmich, Sabitzer, Musiala; Sané, Mané, Müller. Subs: De Ligt, Gnabry, Goretzka, Choupo-Moting, Ulreich, Gravenberch, Tel, Mazraoui, Stanisic.
Barcelona: Ter Stegen; Araujo, Christensen, Koundé, Marcos Alonso; Sergio Busquets, Gavi, Pedri; Dembélé, Lewandowski, Raphinha. Subs: Bellerin, Pique, Fati, Torres, Memphis, Alba, Kessie, De Jong, Garcia, Pena, Balde, Tenas.
Group D
Marseille: Pau López; Clauss, Bailly, Balerdi, Kolasinac; Tavares, Veretout, Rongier, Gerson; Payet, Alexis Sanchez. Subs: Ngapandouetnbu, Guendouzi, Suarez, Under, Gueye, Kabore, Blanco, Harit.
Eintracht Frankfurt: Trapp; Knauff, Ndicka, Tuta, Jakic; Sow, Hasebe, Gotze, Kamada, Lindstrom; Kolo Muani. Subs: Smolcic, Alidou, Rode, Borre, Alario, Chandler, Ebimbe, Grahl, Ramaj.
Latest scores: in Group C, Inter, away to Viktoria Plzen, lead 1-0, while in Group D, Sporting and Spurs are goalless. Follow that game here with Scott Murray:
"The Champions League group stages are a waste of time and just a way for Uefa and the clubs to harvest more money" is a frequent refrain around this time of year, and rightly so: loads of games to eliminate only half the teams with half of those earning a playoff to enter the Europa League instead, before the richest ones contest the knockouts. Football is the winner!
Well, perhaps not this term. Though the competition still serves the interests of Baron Mammon, its early stages look pretty tasty and tonight should be a belter.
At Anfield, Liverpool, who were lucky to escape with a mere 4-1 battering in Naples last week, take on Ajax, who were brilliant in dismantling Rangers 4-0. Jürgen Klopp talked yesterday of "five days of truth," during which his players have been forced to confront themselves, and he'll hope that as encounter with what they think is rock bottom inspires them to compete properly tonight. However, it remains the case that their physical, hyperactive style is exhausting not just just to play against but to play, and Ajax, in great form with Mohammed Kudus on a ridiculous buzz, will demand the kind of mental and athletic effort of which the collective that may no longer be capable.
That game and group would be enough on their own, but there's more – loads more. Because not only do we have Bayern Munich v Barcelona after both teams were impressive in victory last week, but with the additional kicker of Robert Lewandowski returning to Bavaria and Internazionale hoping to pip one or other to a last-16 spot.
Then, elsewhere, we've got Eintracht Frankfurt visiting Marseille – expect the atmosphere there to be the hot side of steaming – and Club Brugge, who beat Leverkusen in glorious fashion the other day – trying their luck against Porto. Here we go!
Kick-offs: 8pm BST