Key events
Pontus Jansson will leave Brentford for Malmo in the summer when his contract ends.
"It is tough to put these last four years into words," said Jansson. "I am so thankful for my time here and the journey that the club and I have been on. When I joined, we were a middle of the Championship club and now I'm leaving a club that's hopefully about to finish top 10 in the Premier League.
"I've been on a massive personal journey as well. I matured into a captain, and a leader, because of this club … I owe so much to Thomas Frank for everything that he's done for me, on and off the pitch, over the past four years. I also want to thank all the staff here who've made me the best version of myself as a person and a footballer."
Quotes from the Brentford website.
Ruben Selles, the Southampton interim manager, insists Saints can stay up before hosting Crystal Palace, who hammered Leeds last weekend.
"I'm confident … it's a fact that we haven't won in five games, but it's also a fact we won two of first three we played … we are still alive, we are still there to get the three points tomorrow … to move forward into the last part of the season with attitude and commitment.
"The group has the fight to stay up. The players have it. They have been working really well. Then it's just tomorrow, to put all this fight and football that we have inside … then just go for it.
"Every game is must win. But we need to put everything tomorrow to get the three points … It's an important game against Crystal Palace … we need to go for it."
And Pep on Foden, who is recovering at home having had his appendix removed.
Finally, Guardiola is asked about Jude Bellingham and Liverpool, and gives a brief lesson in journalism for the benefit of his questioner, and for all those present.
"You have to prepare better," Guardiola says to the reporter. "You have to know which questions I am going to answer. Next one?"
Well, that wasn't patronising at all.
Guardiola: If Manchester City lose tomorrow, title race is over
Are Man City at their best now?
"In consistency, yes. We are winning games and games … but we were not consistent [earlier in the season] … and everybody knows if we lose games, we lose competitions …
"Tomorrow [against Leicester], if we lose, we will not be champion … we are six points behind Arsenal."
Has he done anything differently this season in the search for consistency? Guardiola initially looks confused and somewhat offended by the question. Or maybe he just can't hear it.
"What?? No. They [City] are second-best team for consistency in the league. Not bad at all … our performances in general have not been a disaster … we are there because we have done many good things.
"In sport, when there is one that is better than you, you have to accept it and keep going."
Arsenal have fewer games – will that matter in the title race?
"Honestly I don't know," Pep replies. "Sometimes in our experience, when we have games every four days, we are very focused, in the rhythm, we are focused, it helps us. Sometimes we lose the rhythm … when you have games Wednesday, Saturday, the minds are always here [points at temple] … when you have two days off, sometimes we lose this type of feeling. In six, seven weeks, everything is over. The players will do everything to keep going."
"The only impact [of experience] is the fact that everybody knows: if we lose, it's over. It's the best way to compete … in every action, the players are living here. We have to win that ball, win that action … and that is when you have the best [level of performance].
"Experience? Does it count? I have doubts if it counts for a lot. I need more years to understand, like Roy Hodgson, 74 years, to understand if it really counts."
Arteta AND Guardiola will be speaking soon. This is too much!
Via Reuters, some extra quotes from Dean Smith from those we had earlier, who has been parachuted into Leicester's relegation battle. It emerges that he was at Augusta last weekend, watching golf, when the most exciting thing ever to happen on a golf course occurred. Anyway:
Leicester City's battle to maintain their Premier League status is not "insurmountable", caretaker manager Dean Smith said.
"The points are there to be won, to grab, to get out of the bottom three," Smith told reporters. It's been a season I've not seen before in terms of nine teams involved in the relegation battle. The more we can keep in that, it's not insurmountable to get out …
Asked if he could be a candidate for the managerial position on a permanent basis, Smith replied, "it's not a conversation we've had … It's an interim job. I was watching the Masters in Augusta last week and now I'm back in England. I'm looking forward to the challenge."
What's the vibe with these press conferences, then?
Well, my sources (Sky Sports News) tell me Steve Cooper, the Nottingham Forest manager, is about to speak. So that's good.
Thanks Barry and hello everyone.
That's all from me. Luke McLaughlin will keep you updated throughout the afternoon. Have a great weekend.
Ten Hag still awaiting fitness updates
Erik ten Hag is still awaiting an update on the fitness of Lisandro Martinez and Raphael Varane as Manchester United prepare for Sunday's match at Nottingham Forest.
Thursday's Europa League quarter-final first leg against Sevilla ended in a chaotic, and potentially costly, 2-2 draw at Old Trafford. Varane went off at half-time against Sevilla and Martinez was taken away on a stretcher towards the end of the match, having pulled up holding his right ankle.
Asked if he could provide an update on the pair, Ten Hag shook his head and said: "Sorry, no. It's not even 24 hours so I don't have a complete diagnosis so I can't tell in this moment."
When reports that Martinez had broken a metatarsal were put to the United boss, Ten Hag said: "I can't say in this moment. When we have news, we will give it straight to you. But let's do the medical, do the assessment, fully diagnose, complete diagnose and then we will give the news. It doesn't change in this moment. I have an idea [what is is] but I don't cause speculation."
Women's FA Cup: Suzanne Wrack previews the weekend's semi-finals, in which Manchester United take on Brighton and Aston Villa host Chelsea.
Aston Villa v Newcastle: Tomorrow's lunchtime kick-off will be the first meeting between Aston Villa and Newcastle since Unai Emery, whose decision to turn down the Newcastle's job opened the way for Howe's appointment in November 2021, was appointed Villa boss.
When it was suggested to him that that moment had been life-changing, Howe – who pointedly did not dismiss reports that the Magpies could be interested in a £100million summer move for West Ham midfielder Declan Rice – said: "Without a doubt, it was.
"I am here because Unai turned the job down, so I'm delighted that he did. Fate has a strange way of working and now we come together. I have nothing but respect for the job he has done and the career he has had. But I'm very thankful he made that decision."
Howe will be without Allan Saint-Maximin, who is undergoing treatment for a hamstring issue in France, but fellow winger Miguel Almiron could return from a thigh injury.
Dean Smith: Leicester's players "needed a lift"
Dean Smith has been appointed Brendan Rodgers' successor as manager at Leicester City on a short-term deal following a recruitment drive that could charitably be described as chaotic. His first assignment could scarcely be more difficult as Leicester travel to the Etihad to face Manchester City tomorrow.
Smith spoke to the press this morning and explained his motivation for taking the job at a club that sits second from bottom of the table and has lost seven of their past eight games.
"I felt they just needed a lift," he said. "I felt confident we could do that. We've seen great enthusiasm. We're trying to put smiles on the faces and that should lift their confidence very quickly."
Asked about the daunting task his side faces tomorrow, Smith was circumspect. "We've watched an awful lot of teams try to impose their game on Man City and come unstuck," he said. "We have to have a game plan and stick to it. We've seen Brentford go there and get a result. We have to have belief in ourselves."
Leciester will be without Harvey Barnes and Ricardo Pereira, who will both miss the game through injury, while Kiernan Dewsbury-Hall is suspended. Youri Tielemans will be available after recovering from an ankle injury.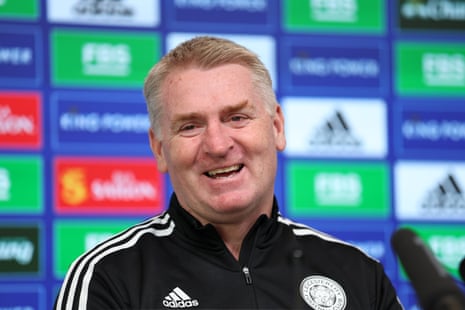 Fulham: Amid increasing fan disgruntlement over sky-rocketing ticket prices at Craven Cottage, Marco Silva has called on supporters to rally behind the team as they attempt to emerge from a slump of five consecutive defeats. Fulham travel to Goodison Park tomorrow to take on Everton, who are battling to put more distance between themselves and the relegation trapdoor.
"It will be really important in all the moments the support they give the players, even if they are not happy with the last results, we are not too – that is the thing," he said. "We need them to play their part in this story and we have until the end of the season. I would like them to support the players.
"Of course, we have to do our part as well because the synergy is always there between the players and the crowd and that's always important. They have to feel the same energy, the same commitment with everything for them to play their part in the game."
Fulham's ticket price row
On Wednesday, the Fulham Supporters' Trust penned an open letter to owner Shahid Khan expressing their concern following the announcement of the cost of season tickets for the 2023-24 season.
"The pricing structure has caused distress, anxiety, anger and disillusionment among a significant proportion of our loyal fanbase," the Trust said.
In the new Riverside Stand, which is scheduled to be completed in time for the start of next season, prices start at £1,250 and rise to £3,000, a price that does not include hospitality. The cost in other areas of the ground is also due to increase, at an average of 18 per cent for adults and more for a children's season ticket.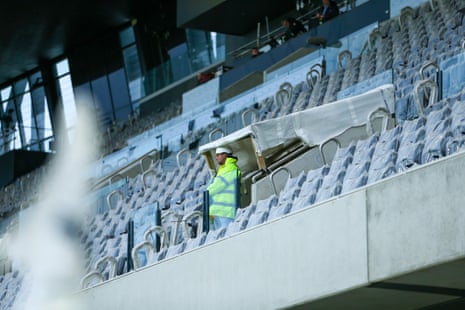 Everton: As their battle against the drop continues, Everton will fancy their chances of victory when they host an out-0f-sorts Fulham side who have lost five consecutive games at Goodison Park tomorrow. Everton go into the game hovering above the relegation zone on goal difference and could really do with all three points.
"We're trying to build something here that can be down to us, what we're doing, what we're playing like, what we're achieving," said Sean Dyche. "That's the main focus. Woany [assistant manager Ian Woan] has a good saying: 'There has to be a future in it'. As much as you will take a lucky one and you'll take one when it's not your day, but you still win or you get a point and all that – of course you take those over a season, they're still important.
"But you want to see a performance, you want to see a team that is performing in the right manner with the right things to go and win games, and that's certainly a more important factor rather than just hoping for the best with other teams' results."
Dyche will be without suspended midfielder Abdoulaye Doucoure tomorrow, while his captain Seamus Coleman is also out with a hamstring injury. Speaking about life down among the Premier League's dead men, Dyche was philosophical.
"It can happen to more or less – not literally – everyone, it seems," he said. "I doubt Manchester City will find themselves in that situation currently, but it's happened to most teams. You fall down there for a spell, you have to find your way and navigate your way through it. There's not an exact way of doing it, but I think I know some ways that are very important to us."
Newcastle United: Eddie Howe has just told reporters he had no problem with Anthony Gordon's angry reaction to being substituted at Brentford last weekend as Newcastle tried to close out their 2-1 win. Brought on as a substitute at half-time, the 22-year-old reacted petulantly as he was replaced with one minute of normal time remaining.
"We've had a conversation," said Howe. "His enthusiasm, aggression, motivation levels are really, really high and he's fiercely determined to do well and achieve, and it is one of his hallmarks, it's one of his strengths. We want to embrace that, we love that about him. But in certain moments he needs a cool head as well, so it's about trying to explain the situation, talk through it. I've got no issue with him at all. He's trained really well this week."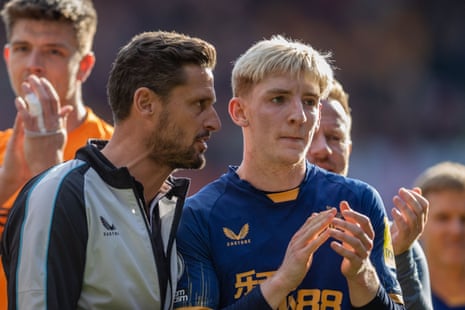 Martínez blow for Manchester United
Lisandro Martínez injury update: The Manchester United centre-back suffered what looked on first glance like a nasty Achilles injury during Manchester United's Europa League quarter-final first leg draw with Sevilla last night but Erik Ten Hag says the injury is not as bad as first feared. "No it's not that area," he said after the game. "I can't tell, but it's not the area of Achilles. I have spoken with him, he is okay, he is calm. I think [it is] an injury [that means] he will not play on Sunday. I cannot say what the diagnosis [is]. I prefer to wait and to know what it is."
While Martínez can expect a spell on the sidelines, his defensive partner Raphael Varane may be fit for Sunday despite being substituted at half-time due to suffering from the effects of an unspecified knock. "That injury, he complained [about it] over the last couple of weeks and we have to see how it is now," said Ten Hag.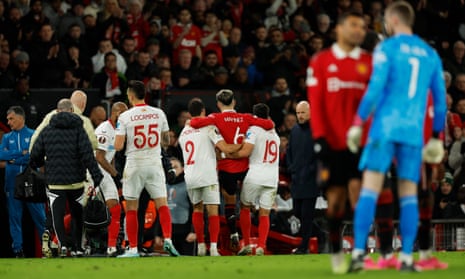 Klopp on Jude Bellingham: "I have nothing to say on that," he said, when quizzed about Liverpool's very public withdrawal from the stampede to secure the England midfielder's services from Borussia Dortmund. "It is not about Jude Bellingham, but I never understand why we talk about things we cannot have, theoretically. We cannot have six players in a summer, everyone for £100m. That is clear.
"You have to realise what you can do and then work with it. That is your job. We are not children; when you ask a five-year-old what they want for Christmas and they say, I don't know, 'a Ferrari', you would say that is too expensive and you cannot drive it, If this kid then was really unhappy because he didn't get his Ferrari, it would be a really sad life. You look what you can do, and you work with that."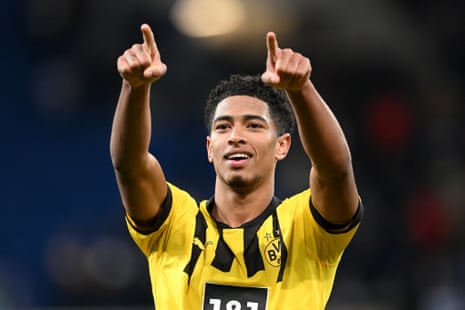 Klopp satisfied with Hatzidakis investigation
The assistant referee Constantine Hatzidakis will face no further action from the Football Association following an apparent elbow on Liverpool defender Andy Robertson as the players of Liverpool and Arsenal left the field at half-time during last Sunday's Premier League draw at Anfield.
Jürgen Klopp is currently talking to the pressd ahead of his side's match against Leeds United on Monday night and says he is satisfied with the decision. "I think it has been dealt with really well," he said. "I wasn't aware of it during the game; I spoke to Robbo and the other guys, not the assistant, but now we can carry on."
Hatzidakis was stood down from duties this weekend while the investigation took place but will be free to resume them next week. The official is reported to have spoken to Robertson directly and apologised for his actions.
Something for the weekend …
Another Friday, another day of managerial press conferences ahead of the weekend's action. It may be mid-April, with the daffodils in full bloom, but every team in the Premier League still has something to play for, whether it's the title, a place in next season's Champions League, Europa League or Europa Conference League, or top flight survival itself. In this the calm before another weekend storm, we'll bring you news from all the pressers as well as any other major talking points that present themselves, so stay tuned.