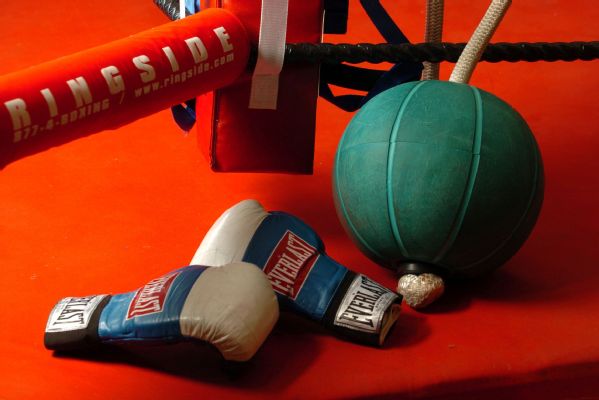 GALLOWAY TOWNSHIP, NJ — El boxeador y peleador del Salón de la Fama Robert "Bobby" Goodman, quien promovió dos grandes bendiciones para Muhammad Ali en la década de 1970, falleció. Tenía 83 años.
Goodman murió el domingo en el campus continental del Centro Médico Regional Atlanticcare en la ciudad de Galway, dijo su familia en un comunicado. No se reveló la causa de la muerte, pero estuvo hospitalizado durante tres meses.
Goodman pasó 25 años con la compañía del promotor del Salón de la Fama Don King, como vicepresidente de operaciones de boxeo, casamentero y director de relaciones públicas. Su difunto padre, Murray Goodman, también está en el Salón de la Fama del Boxeo. Son el único dúo de padre e hijo que ha sido consagrado tanto en el Salón de la Fama del Boxeo Internacional como en el Salón de la Fama del Boxeo de Nueva Jersey.
Goodman y su padre abrieron su propia compañía, Murray Goodman Associates, en la ciudad de Nueva York y manejaron eventos de boxeo para Don King Productions, Top Rank de Bob Arum y Main Events. También han tratado con clientes individuales, incluido el gran peso semipesado Bob Foster y el campeón de peso pesado Ken Norton.
"Bobby Goodman fue un gran hombre, un querido amigo y un activo para el deporte del boxeo", dijo King en un comunicado. "Era un gran trabajador y amaba el boxeo y todos los que formaban parte del boxeo".
Durante sus años con King, Goodman promocionó "Rumble in the Jungle" entre Ali y George Foreman y "Thrilla in Manila" entre Ali y Joe Frazier; "Face the Sunshine" con Foreman y Frazier; y dos peleas entre Roberto Durán y Sugar Ray Leonard.
Goodman también ha trabajado en el Madison Square Garden.
Nacido en Nueva York, Goodman asistió a la Universidad de Miami durante dos años antes de alistarse en la Guardia Costera. Después de dejar el ejército, trabajó en relaciones públicas con los New York Titans de la NFL. Al vender los Titans para convertirse en los Jets, Goodman y su padre se dedicaron a promover el boxeo.
Los sobrevivientes de Goodman incluyen un hermano, una hermana, cuatro hijas y nueve nietos.