Key events
43 min: Benzema eases Silva off the ball down the Real right and rolls infield for Vinicius, all alone in the box. Got to say, that's a generous decision in Chelsea's favour, because it looked like a fair shoulder charge from the side. No free kick, and that's surely 2-0. Meanwhile here's Duncan Edwards: "I can't imagine that Frank Lampard asked Chilwell to spend much of the first half with his arms spread wide in mock frustration, be awful on dead ball duty, continually be out of position, chip lack lustre passes in the vague direction of teammates, and generally depict spinelessness – but if he did he's really getting his message across."
41 min: Benzema's cute flick in the centre circle sets Vinicius tearing into acres down the left. Benzema wants the ball back in the middle but Vinicius clanks a wild cross over his head and out for a goal kick.
40 min: Modric crosses from the left. Alaba goes in for a header but the ball rolls off his back. Kepa does well to claim a ball heading towards the bottom-right corner, especially with Benzema lurking.
39 min: Vinicius whips in from the left. Benzema shapes to volley the cross home but Silva's excellent positioning saves the day for Chelsea. But Real come again and Vinicius wins a corner out on the left. Nothing comes of that, but Chelsea could really do with hearing the half-time whistle and regrouping.
37 min: Rodrygo one-twos down the other flank, this time with Vinicius Jr. He cuts the return ball back, hoping to find Benzema, but the flag pops up for offside. Chelsea could do with half-time already, because they're shipping chances with increasing regularity.
36 min: Real keep on coming. Benzema has a rake from distance but this one is an easy gather for Kepa. That's Real's eighth attempt on goal already, and their fifth on target.
34 min: Rodrygo and Benzema one-two at pace down the inside-right channel. Rodrygo's shot from a tight angle is parried by Kepa … and stays in play on the byline. The crowd scream in impotent anger as Rodrygo drapes himself on the advertising hoardings, unaware what's going on behind him. Had he noticed the ball staying in and reacted accordingly, he'd have had a chance to tee up Benzema. But Chelsea clear.
33 min: Carvajal, out on the right, slips a diagonal pass through Koulibaly's legs and nearly finds Rodrygo in the Chelsea box. Once again Kepa is out quickly to claim and snuff out the danger.
31 min: Camavinga lifts a pass down the inside-left channel and nearly finds Benzema, rushing into the Chelsea box. Kepa reads the danger well and comes to the edge of his box to bravely claim.
30 min: Real stroke it around in ominous fashion, Valverde and Rodrygo combining briskly down the right, Camavinga looking for Benzema in the middle from the left. Chelsea's defence is being worked to its limit here.
28 min: Koulibaly, of all people, runs at the Madrid defence down the middle. He flicks towards Sterling on his right, and nearly releases him down the channel. But Camavinga reads the danger and pokes away. This is a really fun, open game. Both teams look dangerous whenever they go forward.
26 min: … so having said that, Real nearly go two up. Vinicius runs hard at the discombobulated Fofana, and reaches the left-hand corner of the six-yard box before chipping delicately over Kepa from a tight angle. Silva adjust in mid-air to clear off the line, although the ball may have been sailing across the face of the goal rather than in. Either way, Silva wasn't hanging around to find out. Fine defending, especially with Rodrygo lurking at the far stick.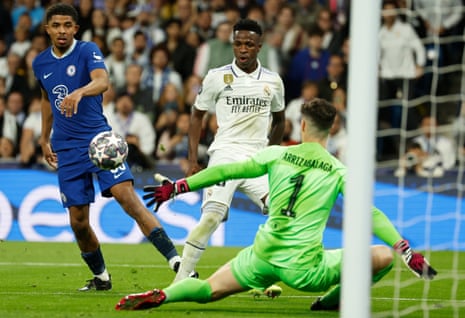 25 min: The free kick's pumped into the mixer. Silva high-kicks Kroos in the head, accidentally it should be stressed, and the whistle goes to put an end to Chelsea's attack. That's a really good response to falling behind by Chelsea, though/
24 min: Kroos clips Fernandez out on the Chelsea right. A free kick, and a chance to load the box.
23 min: Almost an instant equaliser for Chelsea! James gets ahead of Camavinga down the right and crosses low. Sterling attempts to guide a sidefoot into the bottom right. Courtois gets down to scoop around the post. What a save! Nothing comes of the resulting corner.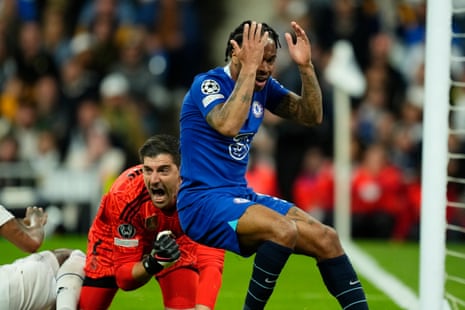 GOAL! Real Madrid 1-0 Chelsea (Benzema 21)
Real pass it around slowly, seemingly going nowhere. Then suddenly they spring into action. Carvajal gets ahead of Kovacic and wedges down the middle. Vinicius, a step ahead of Fofana, telescopes a leg to poke a first-time shot towards the bottom right. Kepa parries, but only tees up Benzema, three yards out. You know the rest. Real lead!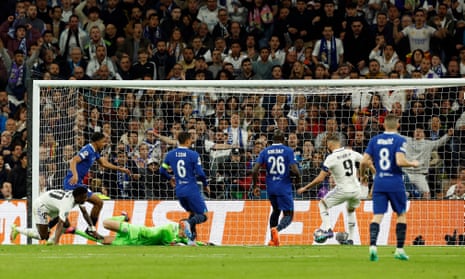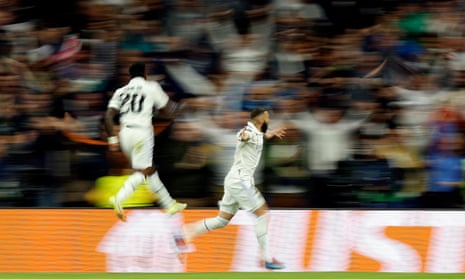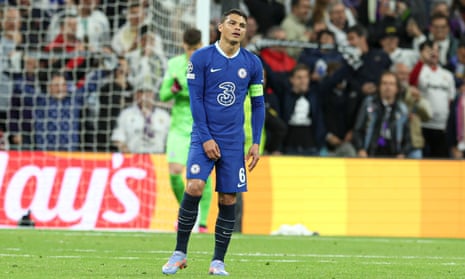 19 min: Real are beginning to get comfortable in Chelsea's half. The visitors seem happy enough to sit back and hope for an opportunity to break.
17 min: Fernandez is caught in possession 25 yards out by Valverde, who creams a shot over the bar from the edge of the box. Sloppy from the World Cup winner, and it gives Real, growing fast into this game, further encouragement.
16 min: Vinicius dribbles in from the left and goes over spectacularly in the environs of Fofana. He screams for a penalty, but he's not getting one, the referee telling him to get up and get on with it again.
15 min: Modric and Benzema buzz around in Chelsea's final third, pulling the visiting defence out of shape. The ball breaks to Rodrygo, who has options but lets Chelsea off with a floating cross that's easy pickings for Kepa.
14 min: Vinicius drives at Fofana down the left and wins Real Madrid's first corner of the evening. Modric takes. Koulibaly bashes a header clear. Real are beginning to show in attack after a slow start.
12 min: Benzema dribbles hard at Chelsea down the inside-left channel. He one-twos with Vinicius, leaves Silva behind, and slams a shot goalwards from a tight angle. Kepa is on point to snaffle. So close to the opener.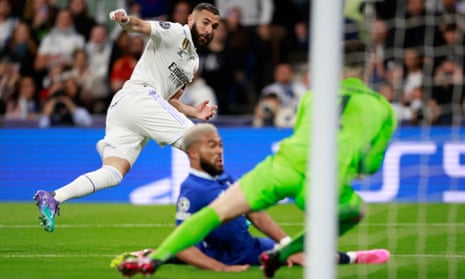 10 min: Chelsea pin Madrid back and ping the ball around this way and that. Eventually Fernandez, quarterbacking from deep, flings a ball towards Sterling on the left-hand edge of the six-yard box. Sterling beats Militao to the header, but only as a result of excessive shoving. The whistle goes and the pressure on the hosts is released.
8 min: Chilwell hoicks a dreadful free kick over everyone's head and the crossbar. Neither cross nor shot. Goal kick, and a terrible waste. "Frankie goes to Boehlywood?" begins Paul Morley Peter Oh. "Hard not to question this bizarre decision by Chelsea but I suppose we have no other option but to Relax."
7 min: Sterling attacks Camavinga down the right wing and threatens to race past and into the box. Camavinga sticks out a cynical leg, and this is a free kick for Chelsea, just to the right of the Real penalty area. It's also a yellow card for Camavinga. It's been a promising start for Chelsea.
6 min: Vinicius Junior drops a shoulder and prepares to tear past Fofana down the left. Fofana makes a crude bodycheck and goes into the book. He's not one of the Chelsea seven already on a booking in the tournament, so he's fine for the second leg. Unless he manages to get himself sent off, that is.
4 min: Chelsea counter at speed again! Kante robs Modric in the middle of the park and launches a three-on-two attack! He reaches the edge of the box but, with options either side, leaves it too late to make the pass to Felix, whose low cross is hacked clear by Alaba.
3 min: Nothing comes of the Chelsea corner, but that was nearly a dream start for the visitors. On the touchline, Ancelotti is furious with his team for shipping such an easy chance.
2 min: Real are on the front foot early doors. Modric is already dictating terms. Camavinga crosses from the left. Chelsea clear … then break! One pass down the middle, and Felix is clear. He doesn't quite have the pace to stay ahead of Militao, and though he reaches the Madrid box and gets a shot away, he's been ushered out a little to the right, and Courtois kicks behind for a corner.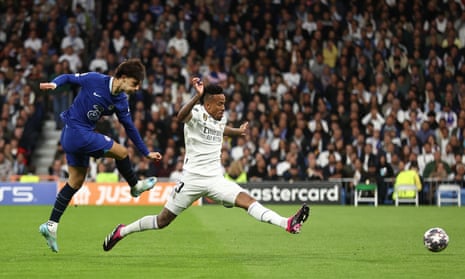 Chelsea get the ball rolling. One heck of an atmosphere at the Bernabeu, as you'd expect. "It's all about Frankie, these pre-match postings," notes John Mackenzie, not altogether inaccurately. "What about the players I hear you cry. Well for me, Raheem goal number one, about time he scored again!"
The teams are out! Real Madrid wear their meringue whites, while Chelsea sport royal blue. In the tunnel beforehand, Carlo Ancelotti had a good long friendly catch-up with Kalidou Koulibaly, no doubt reminiscing about their time together at Napoli. Now out on the pitch, the erstwhile Chelsea coach shares a big hug with his successor and former player Lampard. A quick blast of Uefa's remix of Zadok the Priest (Version) and we'll be off soon. Meanwhile, also defending the honour of Chelsea's manager, here's Aditi Modi: "I don't really believe there's much Frank has to lose here. Everyone expects Chelsea to lose, and they most probably will. But if they lose by a non-embarrassing scoreline, that's as close to a win as could be expected from them, against the record champions and under the circumstances."
In defence of Frank. "I don't see how Lampard could have put out a better team to be honest," begins Julian Menz. "Three in midfield to match Real's, James and Chilwell in their preferred positions. Chelsea's stinking form going into the game says Real will win comfortably, but I have a sneaking feeling Chelsea will actually show up tonight. And yes, I'm clutching at straws."
Pre-match reading … courtesy of our men in Madrid.
The pre-match mailbag doesn't make great reading for poor old Frank. "Is it too early for the joke about 'Lamps is going out, all over Europe. We shall not see him compete again in our lifetime'?" wonders Simon Kirchin …
… while Jeff Sax, slayer of ambiguity, performs an Olympic-standard demonstration of fence disembarkment: "Let's get one thing off the table before the game. Chelsea have no chance of winning. Lampard adds nothing positive. He is a clown. His appointment shows how ignorant the owners and directors are."
A reminder of how these teams got here. Real Madrid gave Celtic a good going over as they topped Group F, then did a number on Liverpool in the first knockout round. That number specifically being five.
Chelsea were very impressive in topping Group E ahead of the Italian champions Milan. They then saw off Borussia Dortmund in the first knockout phase without too much fuss. A decent body of work that gave Graham Potter something to build on. Eh?
Frank Lampard speaks to BT Sport. "I'm delighted to be here and doing the job … it was a big surprise, I didn't expect it … it escalated quickly after the Liverpool game, the next day, it was an easy decision for me … it was a big decision for me … I'm very dedicated to my career … the opportunity when it came was a huge deal for me … there are a lot of questions, it's a big squad … my job was to get personal and try to get a reaction … the lads need help and support and we've tried to offer that … Thiago Silva is an incredible professional … there are no doubts for me … in a game of this high level, players like Thiago are a huge lift for us … we'll have to monitor how many minutes he can play as the game goes on … you have to be on top of your game defensively … to be good defensively you have to be good with the ball … at this level talent is not enough … we have to match the Real Madrid midfield … there will be changes in-game … people in energetic positions will have to come and help the team."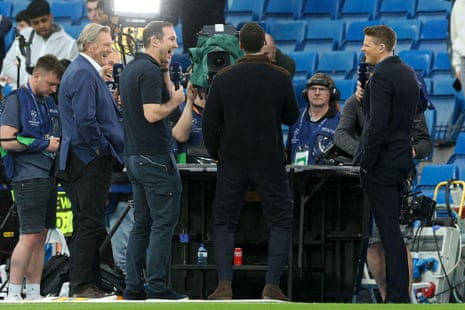 Quite a few Chelsea players need to be on their best behaviour this evening. Of the starting line-up, Kepa, Enzo Fernández, Thiago Silva, Reece James and Kalidou Koulibaly are all one booking away from missing the second leg. Mykhailo Mudryk and Conor Gallagher will also have to watch themselves if they come on.
Real Madrid have no such concerns. Not a single player, either starting or on the bench, faces suspension if booked tonight.
Real Madrid make six changes to the XI that started the 3-2 home defeat to Villarreal. Dani Carvajal, Éder Militão, Toni Kroos, Luka Modrić, Eduardo Camavinga and Federico Valverde return. Nacho, Marco Asensio, Lucas Vázquez, Aurélien Tchouameni, Dani Ceballos and Antonio Rüdiger all drop to the bench.
Chelsea make three changes to the side that went down 1-0 at Wolves on Saturday. N'Golo Kanté, Thiago Silva and Ben Chilwell come in for Conor Gallagher, Kai Havertz and Marc Cucurella. It's Thiago Silva's first appearance for Chelsea since the defeat at Tottenham in late February.
Real Madrid: Courtois, Carvajal, Militão, Alaba, Camavinga, Valverde, Kroos, Modrić, Rodrygo, Benzema, Vinícius Júnior.
Subs: Lunin, López, Vallejo, Nacho, Hazard, Asensio, Odriozola, Vázquez, Tchouameni, Ceballos, Rüdiger, Díaz.
Chelsea: Kepa, Koulibaly, Silva, Fofana, James, Kanté, Fernández, Kovačić, Chilwell, Sterling, Félix.
Subs: Mendy, Pulisic, Loftus-Cheek, Chalobah, Mudryk, Mount, Zakaria, Ziyech, Gallagher, Azpilicueta, Havertz, Cucurella.
Referee: François Letexier (France).
A struggling mid-table Premier League team, managed by a man who only a few months ago was leading Everton towards the Championship, versus the reigning kings of Europe, coached by a four-time Champions League winner? There's only one way this is going, right?
Well, maybe. Spin it like that if you must. But consider some alternatives. Perhaps this is the start of a journey of redemption and validation for Frank Lampard, a story unfolding in suspiciously similar fashion to Chelsea's surprise season-salvaging, manager-swapping Champions League victory of 2012. Real Madrid aren't in the greatest form right now, having lost two of their last four matches, the latest a 3-2 home reverse to Villarreal. And Chelsea have the historical edge over Madrid, 4-1 up in wins, having beaten them in the 1971 Cup Winners' Cup final and the 1998 Super Cup. There aren't too many clubs that can claim a record against the 14-time European champions like that.
Whichever way you spin it, this is a summit meeting all right. This is the third year in a row in Real Madrid and Chelsea have met, and on both previous occasions, the winner has gone on to lift the trophy. Whoever goes through gets to face Bayern Munich or, more likely, Manchester City in the semi-finals. Kick-off is at 9pm in Madrid, 8pm BST. It's on!