Key events
66 min: It's all relative and the bar is exceptionally low but Tottenham are currently looking more dangerous than they have at any other point during this game.
63 min: Son attempts a cross into the Milan penalty area but his effort is blocked. Milan only half-clear and the ball falls to Hjobjerg, who scurries through the opposition penalty area before stinging the palms of Maignan with a rising drive towards the near post.
62 min: Theo Hernandez dawdles over a throw-in down by the technical areas, prompting whistles and jeers from the Tottenham fans. He won't care about that.
60 min: Porro shoos Son out of his way and blasts the ball into the Milan defensive wall. Olivier Giroud hacks it clear.
58 min: Harry Kane receives a pass from Hjobjerg and is clipped by Sandro Tonali as he turns to sprint into the Milan penalty area. Free-kick for Tottenham, 25 yards out, right of centre. Having hit the bar with a similar effort against WOlves at the weekend, Porro is lining it up.
57 min: There's been considerably more huff and puff from Spurs in this second half but they've created nothing of note. There's plenty of time remaining but this is all very easy for Milan.
56 min: Milan susbtitution: Alexis Saelemaekers on for Junior Messias, who appears to have picked up a knock. Saelemaekers takes an eternity to get his socks, shinpads and boots just so, earning himself a rollocking from his manager, who tells him to hurry up.
54 min: Emerson Royal is nutmegged by Brahim Diaz and fouls the AC Milan midfielder as he tries to dart past him. Free-kick for Milan.
52 min: Tottenham substitution: Pedro Porro on for Ivan Perisic, who has done little or nothing all evening. Or indeed, throughout all his time at Spurs. Other opinions are, of course, available.
51 min: Fraser Forster is forced to save with a foot from Brahim Diaz, who'd shot low and diagonally from five yards out after wriggling between a couple of Tottenham defenders. A let-off for Spurs.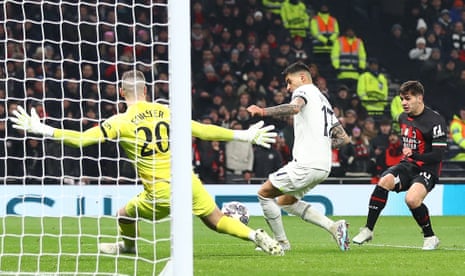 50 min: Hjobjerg plays the ball wide to Kulusevski on the right flank but Tottenham are unable to get the ball into the Milan penalty area.
48 min: Some long overdue signs of life from Spurs, as Dejan Kulusevski whips the ball towards the edge of the Milan six-yard box. It's hooked clear by Fikayo Tomori but at least the crowd have woken up.
47 min: Cristian Romero accidentally cuffs Brahim Diaz in the face as the Milan midfielder attempts to lift the ball over his head. He avoids a second yellow card, which would have been harsh if produced.
Second-half: Tottenham Hotspur 0-0 AC Milan (agg 0-1)
46 min: Play resumes with AC Milan on the ball and perhaps surprisingly, no changes in personnel on either side yet. I thought Spurs might take off Perisic, who has done nothing and send on Richarlison.
Half-time: Tottenham Hotspur 0-0 AC Milan (agg 0-1)
Peep! With the home crowd sitting in near silence, referee Clement Turpin brings the first half to a merciful end. The deadlock is unbroken but with their aggregate lead, Milan will be absolutely delighted with how well things have gone in the opening 45 minutes. The onus is on Tottenham to score and they've barely caused their visitors an ounce of anything even remotely resembling bother.
45+1 min: Ivan Perisic tries to pick out Harry Kane with a cross arrowed from deep towards the far post. Maignan is quick off his line to claim the ball before it reaches its intended target.
44 min: Various Milan players ping the ball hither and yon just inside their own half with Tottenham's players applying little or no pressure and just leaving them to it. It's been a pretty disappointing first-half performance from Spurs, who have shown little or no urgency and created absolutely nothing.
42 min: Dejan Kulusevski sends a cross towards the far post from the right, standing the ball up at the far post. Ivan Perisic gets on the end of it but is unable to generate any power in his downward header. AC Milan goalkeeper Mike Maignan collects.
39 min: Dejan Kulusevski plays a loose pass, then fouls Olivier Giroud as he tries to retrieve the ball. The French striker goes to ground and is in no rush to return to his feet.
38 min: With little to get excited about taking place on the pitch, the atmosphere in the Tottenham Hotspur Stadium on this cold March evening seems fairly subdued. One suspects a goal from the hosts would perk the home crowd up no end but there's no sign of one coming.
35 min: Mike Maignan is forced to block with his feet at the near post when a low Harry Kane cross towards Ivan Perisic takes a deflection off the boot of Malick Thiaw.
32 min: Harry Kane sends the ball fizzing up the right flank for Son to chase. It's something of a Hail Mary pass and Fikayo Tomori mops up at the back for Milan.
32 min: Kulusevski is penalised for a foul on Theo Hernadez in the middle of the pitch.
30 min: Tottenham's fans howl with the outrage of the aggrieved when Dejan Kulusevski trips over his own feet while galloping upfield and loses possession – they feel their man was fouled. Milan break upfield and Junior Messia sends another long-range effort high and wide of Fraser Forster's goal.
29 min: WIth almost 30 minutes gone, there have been no chances of note for either side and AC Milan retain their slim aggregate lead.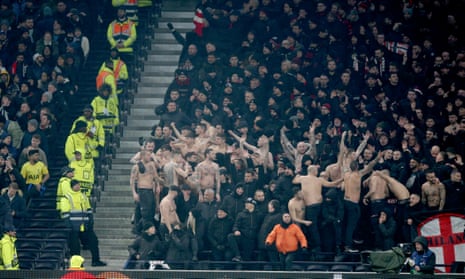 27 min: Emerson Royal goes to ground, in need of medical attention. He and Theo Hernandez have a lengthy, apparently amiable chat while they wait for the physio to come on and administer treatment.
25 min: Kulusevski tries to escape down the right touchline with the ball at his feet but is unable to shake off Theo Hernandez, who forces the Spurs winger to run the ball out of play for a goal-kick.
23 min: Heung-min Son tries a shot from distance that is deflected out for a corner. The South Korean takes it short to the edge of the penalty area, receives the return pass and then curls the ball high and wide into the stand behind the Milan goal.
20 min: Clement Lenglet is booked for a foul on Olivier Giroud. He too will miss the quarter-final first leg if Tottenham go through tonight. On the touchline, Spurs manager Antonio Conte has also been booked for some misdemeanour or other. After a period of leniency from referee Clement Turpin, those yellow cards are now coming thick and fast.
18 min: From the free-kick, which looks like it might have been practiced on the training ground, albeit not anywhere near enough, Milan right wing-back Junior Messias pulls a shot well wide of the far post.
16 min: Never a shrinking violet, Cristian Romero upends Rafael Leao with one of his trademark needlessly clumsy challenges just outside the Tottenham penalty area and earns the first booking of the night. He'll miss the first leg of the quarter-final through suspension, should Tottenham advance.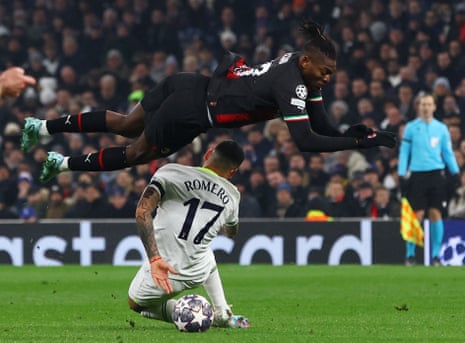 15 min: Theo Hernandez canters down the inside-left but is unable to get the ball out from under his feet to send a cross towards the unmarked Olivier Giroud, who was screaming for a pass. Clement Lenglet blocks the pass when Hernandez finally contrives to get it away.
13 min: Clement Lenglet barges Rafael Leao to the ground as the Milan winger tried to run on to a through-ball. He too avoids a booking from leniency's Clement Turpin.
11 min: Tottenham attack on the break with Pierre-Emile Hojbjerg winning the ball and playing it forward to Kane. He pings it wide to Kulusevski, who picks out Emerson Royal. His fairly weak shot takes a deflection but Maignan scrambles to prevent the ball from going out for a corner.
9 min: Oliver Skipp commits his second cynical foul of the night, on this occasion grabbing a fistful of Rafael Leao's shirt as the Milan winger tried to get away from him. He joins Kalulu in getting a lecture from the referee, who warns him he'll be booked for any subsequent tomfoolery.
8 min: Harry Kane tries to drill a cross into the Milan penalty are from the right flank but his delivery is blocked.
6 min: Milan central-defender Pierre Kalulu catches Ivan Perisic with a late challenge that leaves the Croatian limping. Kalulu gets a ticking-off from the referee, whose yellow card stays in his pocket.
5 min: Olivier Giroud tries to send Rafael Leao in behind the Spurs defence but succeeds only in hitting his team-mate in the face with his pass.
4 min: Maignan sends a clearance from his own penalty area drifting out of play for a throw-in halfway inside the Tottenham half. I'm not sure who he was trying to pick out there!
2 min: There's an another foul on Hernandez, who gets a little shoulder from Oliver Skipp in obstruction mode. Free-kick for Milan, about 35 yards from the Tottenham goal. Hernandez curls the ball into the penalty area but the hosts clear with a minimum of fuss.
2 min: AC Milan goalkeeper Mike Maignan gets an early touch, pinging the ball out towards Hernandez on the touchline.
1 min: Dejan Kulusevski concedes an early free-kick, fouling Theo Hernandez deep in the Milan half as he tried to pressure him on the ball.
Tottenham Hotspur v AC Milan (agg: 0-1) is go
1 min: Tottenham get the ball rolling, their players wearing white shirts, shorts and socks. AC Milan are in black and red striped shirts, black shorts and black socks.
Not long now: With less than five minutes to go before tonight's delayed kick-off, the teams line up in the tunnel and make their way out on to the Tottenham Hotspur Stadium Sward. Harry Kane skippers Spurs tonight, while Theo Hernandez wears the captain's armband for Milan. The two sets of players line up either side of French referee Clement Turpin and his team of match officials.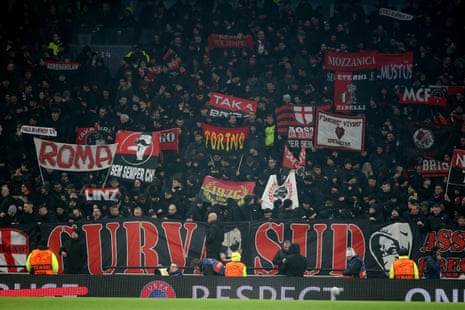 Kick-off: Crikey! The latest word from White Hart Lane is that kick-off will be at 8.10pm. Whatever time play gets under way, we'll be here to report on it.
Those teams: Antonio Conte makes just one change to the team that lost 1-0 against Wolves at Molineux on Saturday. As expected, Emerson Royal comes in for Pedro Porro at right wing-back, while Dejan Kulusevski keeps his place despite speculation he might be replaced by Richarlison.
There are three changes to the AC Milan side that lost against Fiorentina at the weekend. Portuguese winger Rafael Leao, Bosnian midfielder Rade Krunic return from domestic suspension, while Brahim Diaz` is also in. Ismael Bennacer, Ante Rebic and Charles De Ketelaere make way, dropping to the bench.
Kick-off is no longer delayed …
Having announced that kick-off would not take place until 8.30pm, it has now been decided that it will in fact take place at it's original time of 8pm. Both teams are at the stadium. The Milan team coach was late arriving to the stadium but did turn up shortly after 7pm. A Uefa diktat states teams need to be at the ground a minimum of 50 minutes before kick-off and Milan made the cut-off, so the game will go ahead on time.
Tottenham Hotspur v AC Milan line-ups
Tottenham Hotspur: Forster, Romero, Lenglet, Davies, Royal, Hojbjerg, Skipp, Perisic, Kulusevski, Kane, Son
Subs: Austin, Whiteman, Sanchez, Richarlison, Danjuma, Pedro Porro, Tanganga, Moura, Sarr, Devine.
AC Milan: Maignan, Thiaw, Tomori, Kalulu, Hernandez, Messias, Krunic, Tonali, Diaz, Giroud, Leao.
Subs: Mirante, Calabria, Bennacer, Ballo-Toure, Rebic, Kjaer, Florenzi, Origi, Pobega, Gabbia, Saelemaekers, De Ketelaere.
Kick-off delayed by 30 minutes …
Tonight's match between Tottenham Hotspur and AC Milan will kick-off at the later time of 8.30pm (GMT). We'll let you know why just as soon as we find out!
Tonight's match officials
Referee: Clement Turpin

Assistant referees: Nicolas Danos and Benjamin Pages

Fourth official: Jeremie Pignard

Video Assistant Referee: Alejandro Hernandez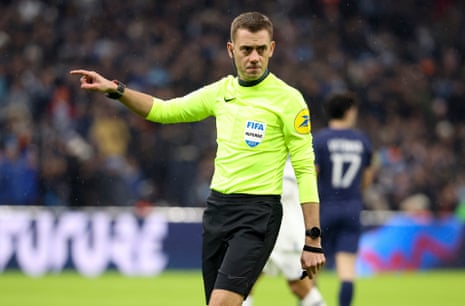 Hugo Lloris, Rodrigo Bentancur, Yves Bissouma and Ryan Sessegnon all remain on Tottenham Hotspur's long-term list of absentees, while Eric Dier is suspended after being shown his third yellow card of the current campaign at the San Siro. In better news for Spurs, central midfielder Pierre-Emile Hojbjerg is back from a spell of his own on the Naughty Step. Emerson Royal seems likely to be picked ahead of Pedro Porro at right wing-back, while Richarlison could come in for Dejan Kulusevski up front.
AC Milan manager Stefano Pioli can call on first-choice goalkeeper Mike Maignan, who missed the first leg through injury, while Bosnian midfielder Rade Krunic and Portuguese winger Rafael Leao are also available following suspensions that ruled them out of their side's 2-1 league defeat away at Fiorentina on Saturday.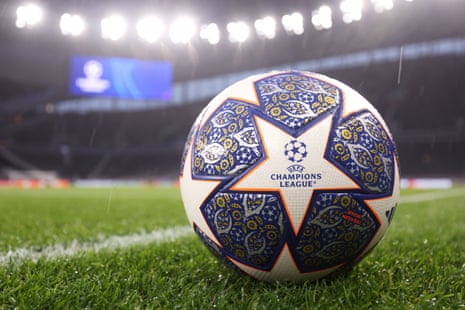 Champions League: Tottenham Hotspur v AC Milan (agg: 0-1)
The Tottenham Hotspur Stadium is the venue for tonight's Round of 16 second leg between Spurs and Milan, with the Italian champions leading 1-0 courtesy of Brahim Diaz's seventh minute strike in the first leg at the San Siro on Valentine's Night.
There is unlikely to be – tragic pun ahoy! – any love lost between the two sides tonight, with Antonio Conte back in his technical are after a spell out recuperating from surgery and trying to mastermind a comeback in what is his team's only semi-realistic chance of securing silverware this season. Tottenham have not won a European knockout game since they reached the Champions League final four years ago.
Fifth in the Serie A table and out of the Coppa Italia, Milan find themselves in a similar position with only one trophy to play for, but few will fancy the chances of whoever advances from this tie to go much further in the competition. Kick-off in North London is at 8pm (GMT) but stay tuned in the meantime for team news and build-up.